24/04/2019
In interview with BIBLE URBAINE about my new project: ESPACE FLO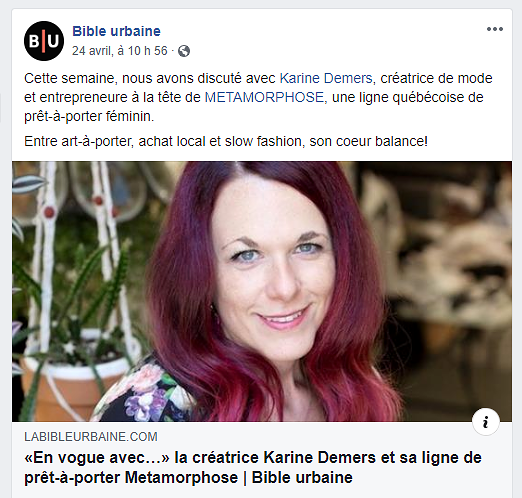 8/03/2019
METAMORPHOSE in the newspaper LE DEVOIR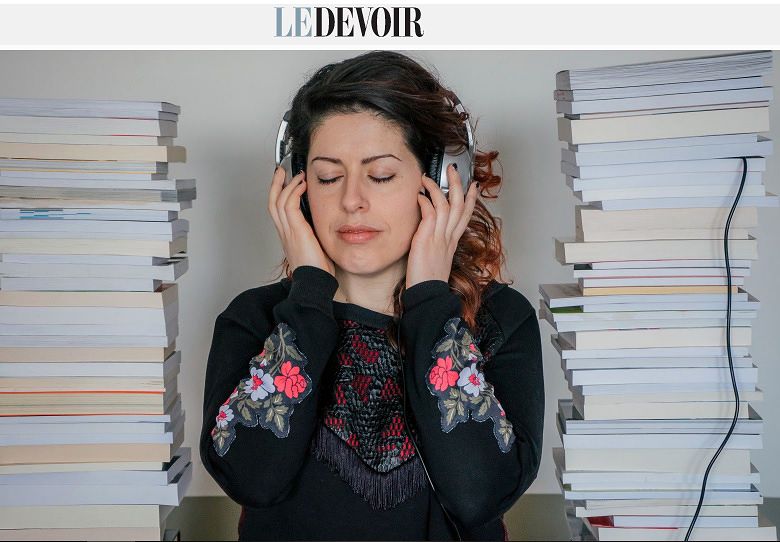 7/12/2018
The blog ÊTRE BIEN CHEZ TOI has chosen our MISTRA sweater as a green gift idea for her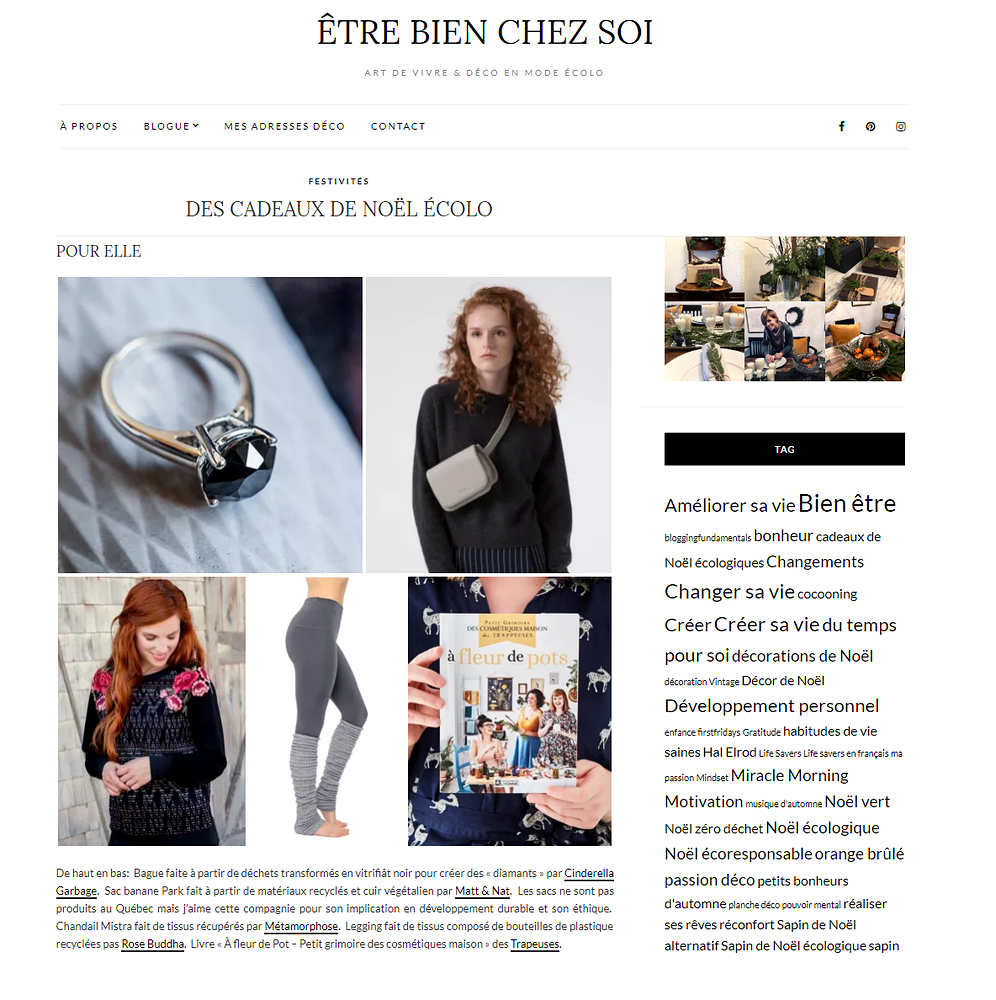 27/11/2018
Our skirt ANKARA in the magazine's holiday shopping guide VÉRO
30/09/2018
Passionate about local fashion, Rhodie Lamour was born in Haiti, lived in the Dominican Republic and studied fashion in New York before arriving in Canada less than a year ago. She had a big "crush" on our collection OS X META, Art-to-wear collection in collaboration with the painter Os cane.
Photo by Camille Tellier Photographe
11/06/2018
The talented writer Kim Thúy during his stint on the show Y'a du monde à messe did honor our creation "Spring Spirit"
*Photo by Karine Dufour & #YAMM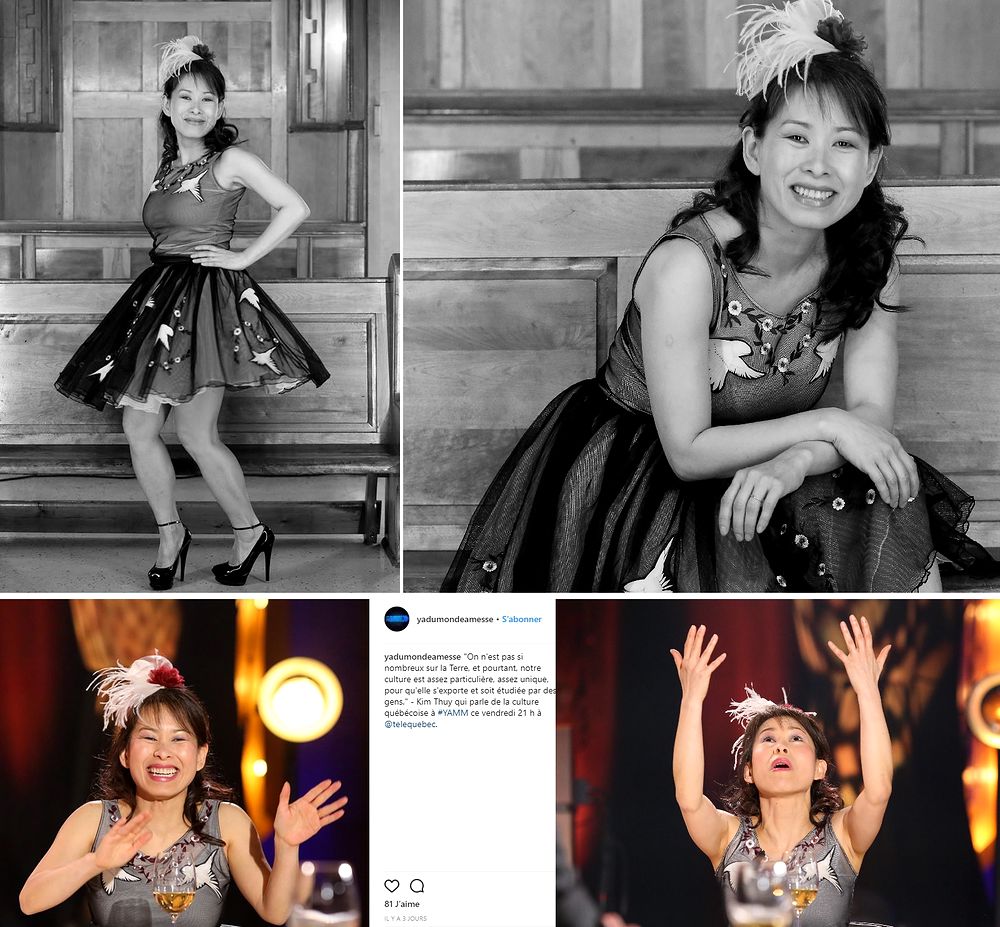 22/05/2018
Very proud that our bomber jacket BRAHMA is in the top 10 of the stylist's choices Marie-Claude Pichette, in collaboration with store LE LOCAL from Gatineau.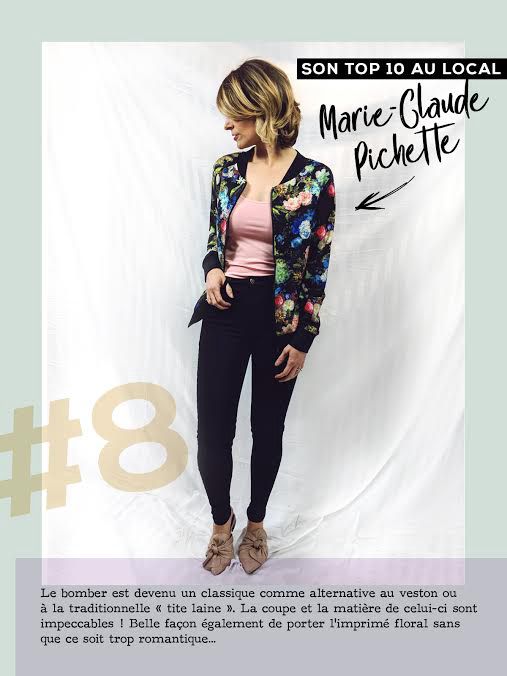 26/04/2018
My participation in the special file TORONTO from Baronmag.com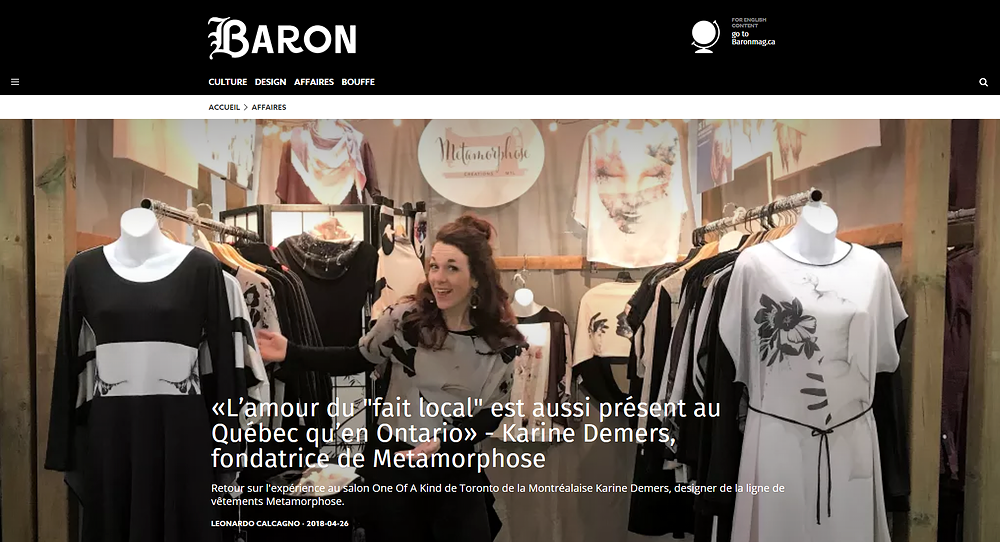 15/04/2018
Our bomber jacket BRAHMA, a must-have trends spring / summer 2018 according to SIGNÉ LOCAL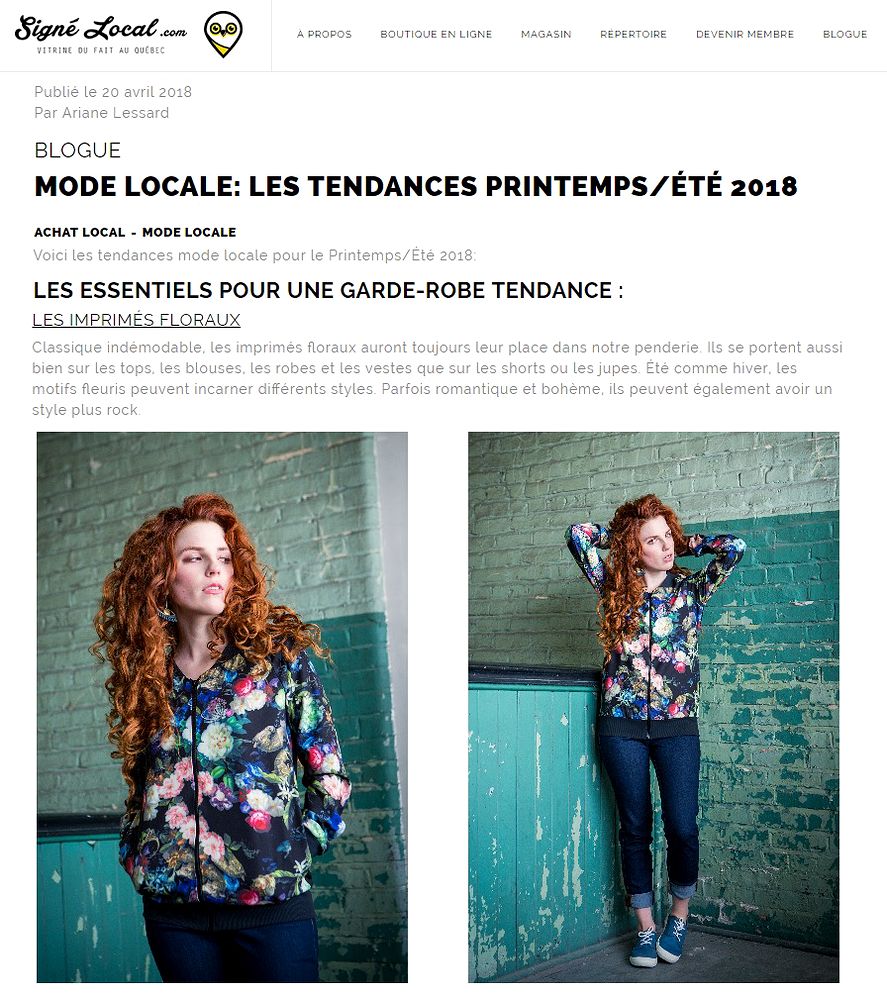 27/09/2017
The sweater MORNY in the local fall trends of the blog SIGNÉ LOCAL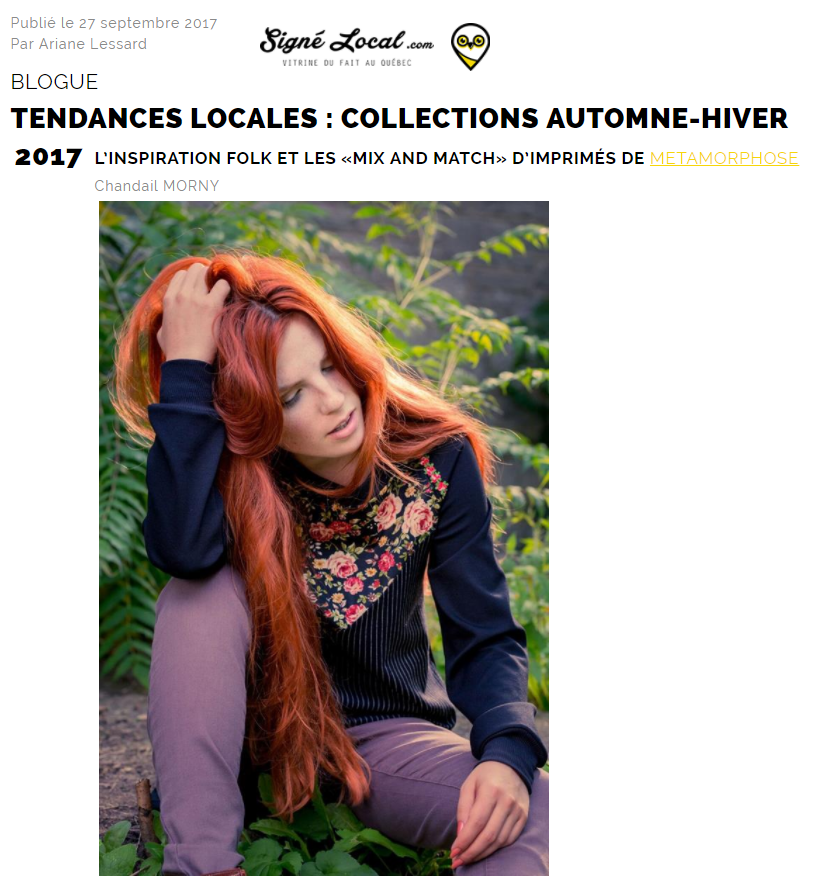 23/08/2017
Our collection OS X META at the fashion show of SIGNÉ LOCAL during the FESTIVAL MODE & DESIGN 2017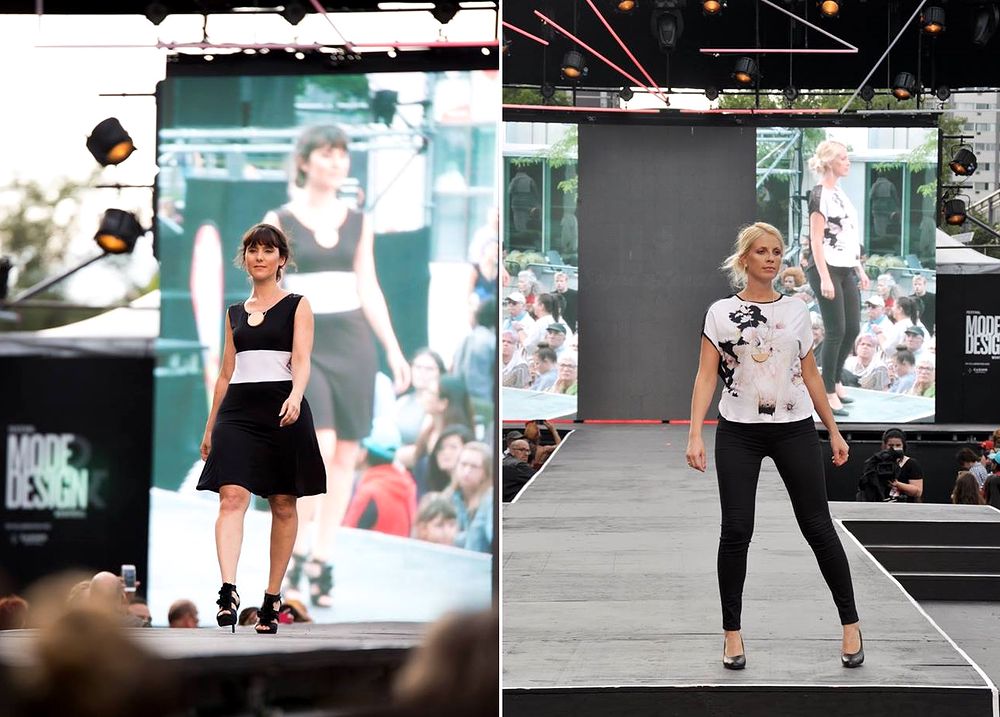 05/06/2017
Our dress FUEGO, a must in summer according to Signé Local: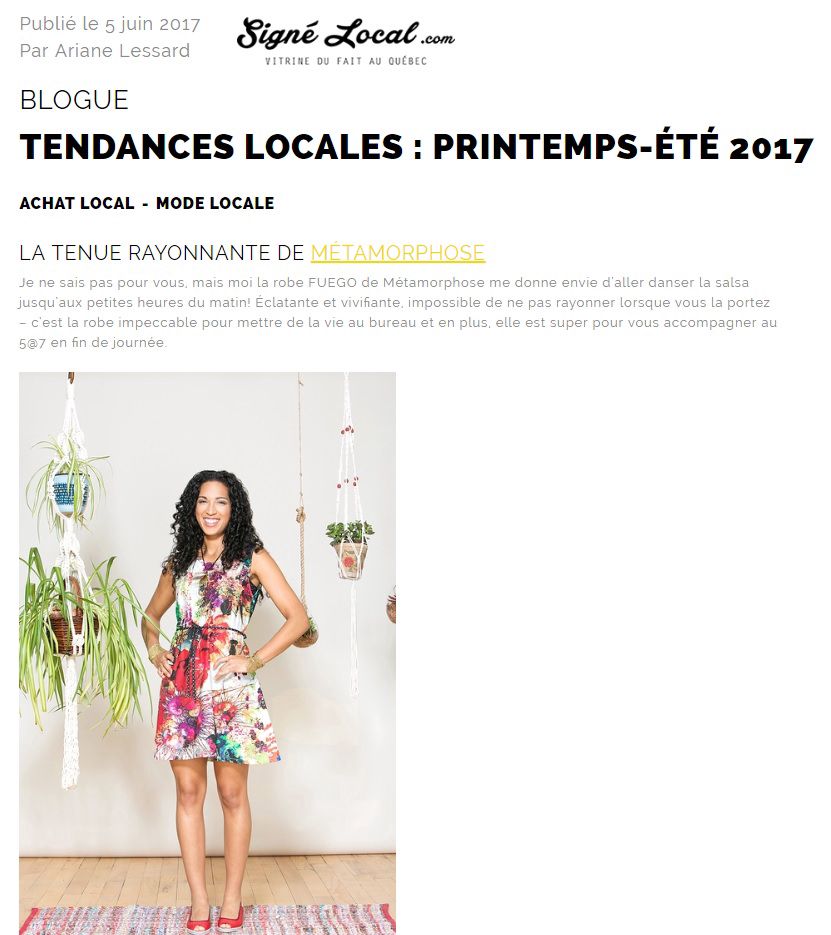 20/04/2017
OS X META: A successful mini-collection launch! All photos available via our page Facebook: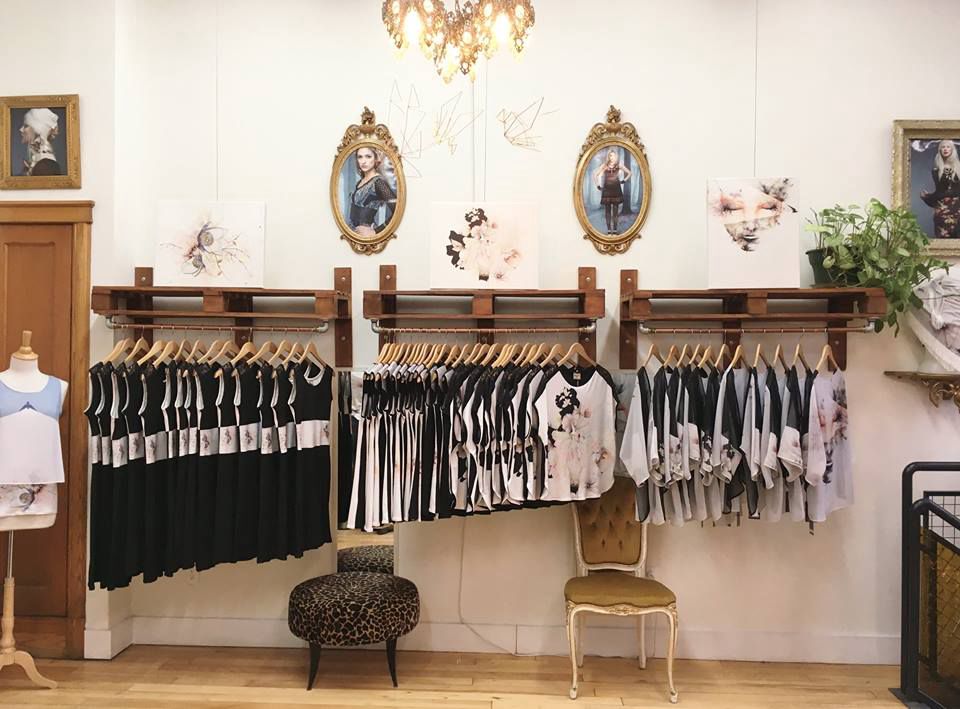 01/02/2017
Our Workshop/ Boutique among the 25 best places in Montreal to shop local fashion!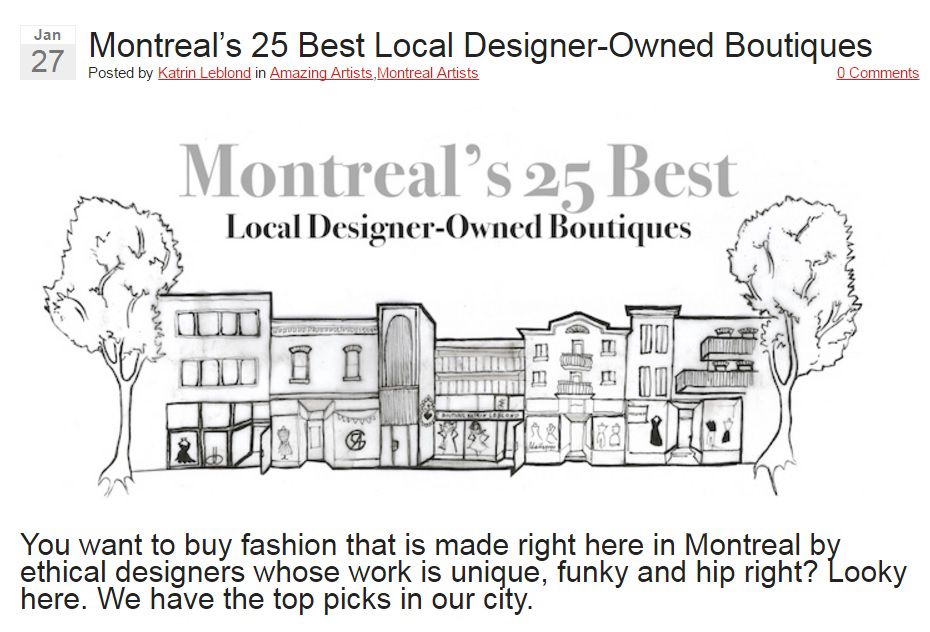 11/12/2016
Beautiful visitor to the workshop: the top model Ève Salvail that we proudly dressed for the launch of the 2016 Virée de Noël !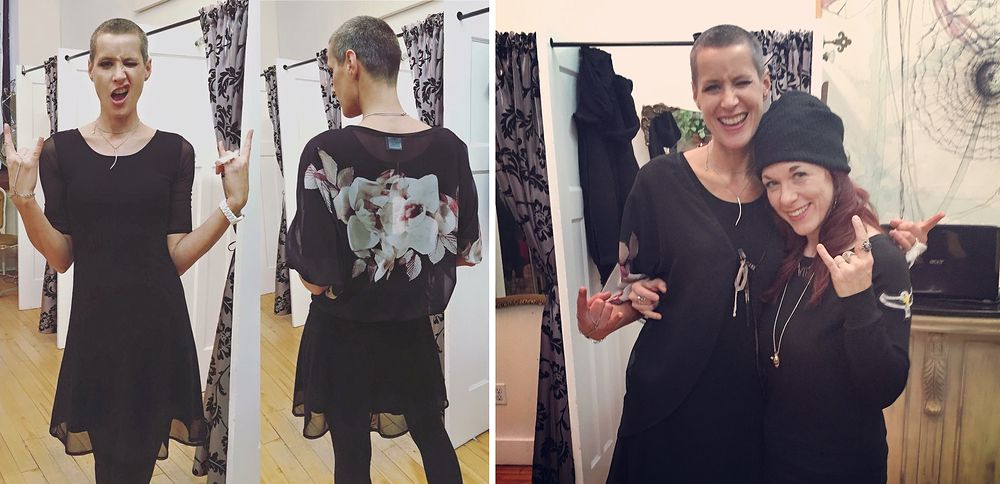 27/11/2016
Our Alice tunic in Toronto newspaper during the «One of a Kind show and Sale»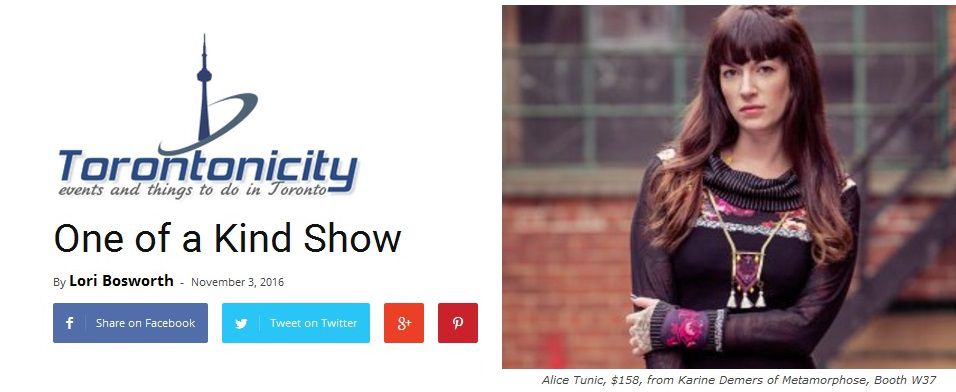 29/09/2016
A nice article on our new collection in the magazine Fibres Collectives
«C'est l'automne et on a envie de s'emmitoufler dans des vêtements confortables et chaleureux! Karine Demers, la designer derrière Metamorphose, a bien compris nos besoin avec sa plus récente collection aux magnifiques couleurs de l'automne»...to know more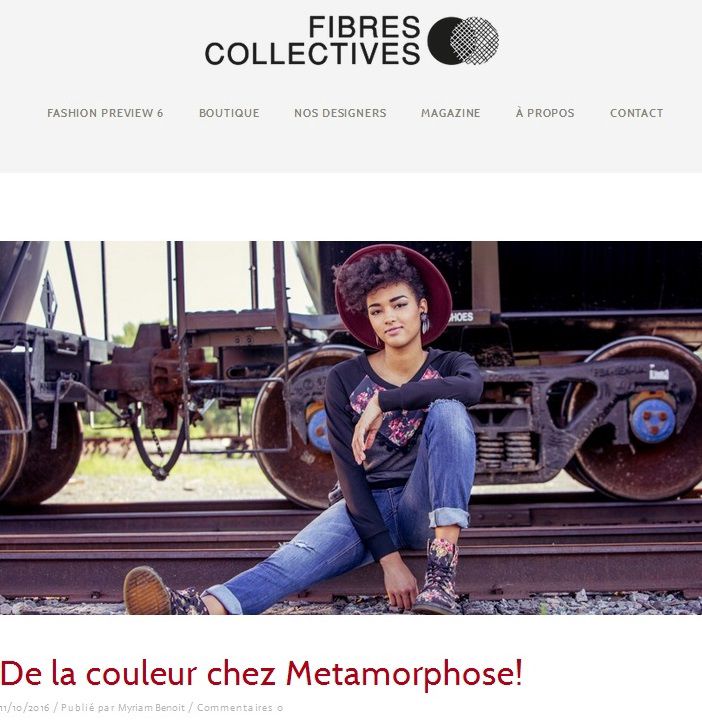 23/07/2016
Our tunic/dress Naomi is perfect for Osheaga and all other music festival coming this summer according to Montreal Gazette & Fibres Collectives...to know more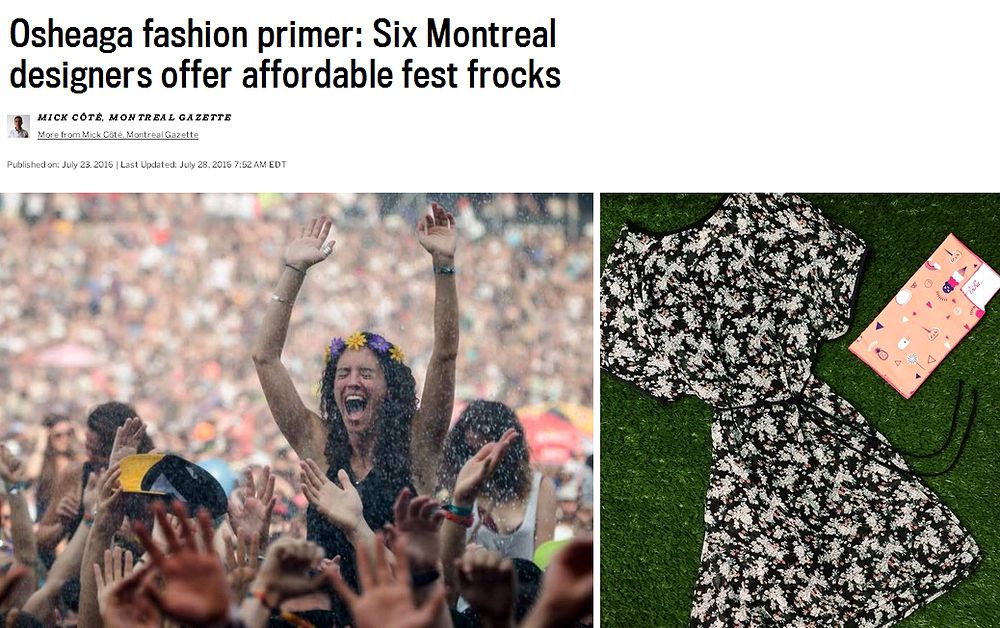 13/06/2016
Mariana Mazza love our raglan sweaters with applied !
She is wearing wonderfully our sweater " Allégresse" with exclusive designs applied during her visit to the tv show «La petite séduction» (summer 2016)

01/06/2016
D system , you know? I had the pleasure to answer questions from the friendly "Joe Redwitch " of the newspaper l'Itinéraire on the subject
«Le fast-fashion coûte une bagatelle au détriment de la santé de ceux qui les fabriquent dans les pays en voie de développement»...to know more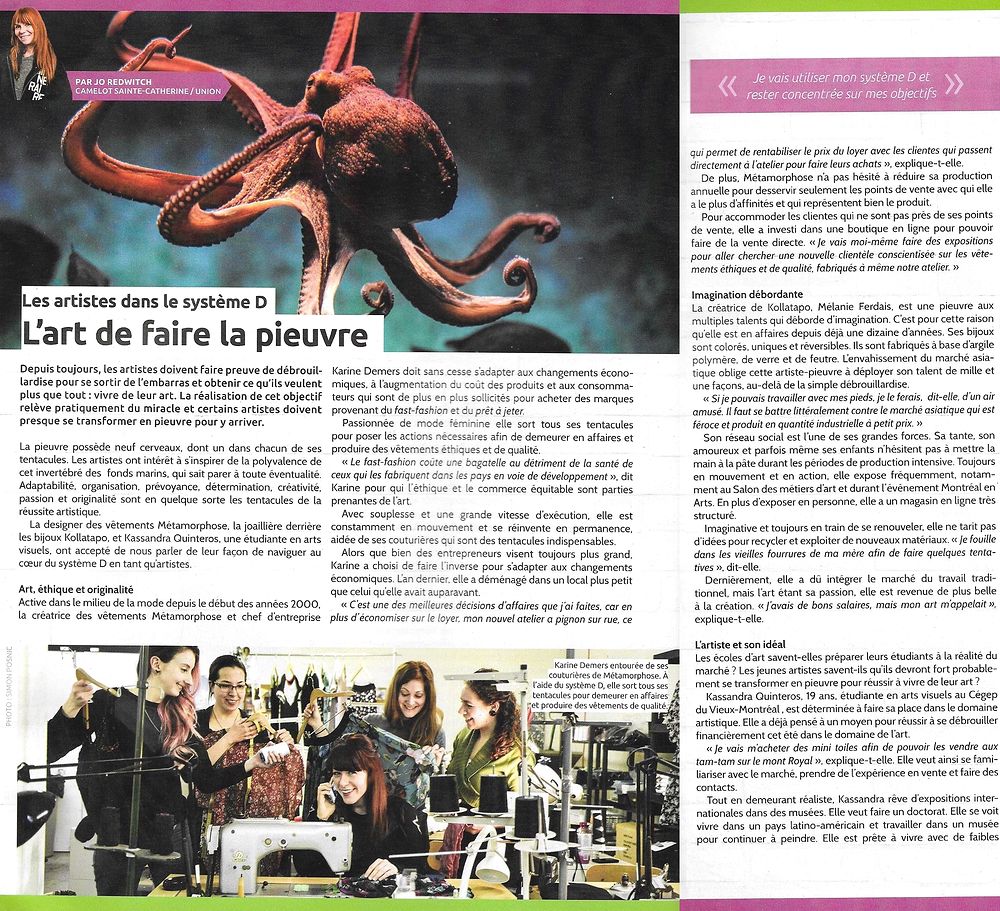 15/05/2016
De fil en aiguille - episode 3 : The collaboration with Metamorphose et Krabe
They talk about us and the collaboration that we made for the production of our project sublimation in the third episode of the series De fil en aiguille. Thank you Baronmag.com , Fibres Collectives & Bureau de la mode of Montreal for these magnificent capsules on the way here!
04/05/2016
Great article about our spring/summer 2016 collection by Fibres Collectives
«Avant de commencer l'entrevue, nous naviguons gentiment sur le site web de Métamorphose et une chose nous saute aux yeux : nous venons d'entrer dans un univers complètement féminin, fleuri et girly»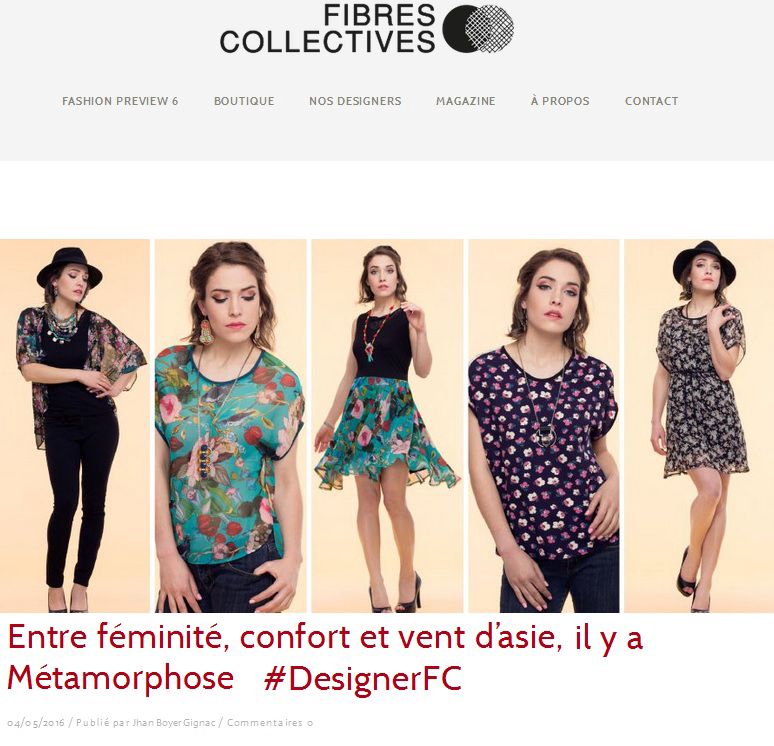 06/04/2016
Exhibition: Nordicity according to the designers of the eShop Fibres Collectives under Fashion Preview
Too proud to participate in the magnificent Fibres Collectives exhibition on the theme of Nordicity under Fashion Preview. For the occasion, we have created the model " Namaste " , an all white dress in semi- transparent voile with kimono sleeve and applied flowers and embroidery entirely hand-stitched butterfly .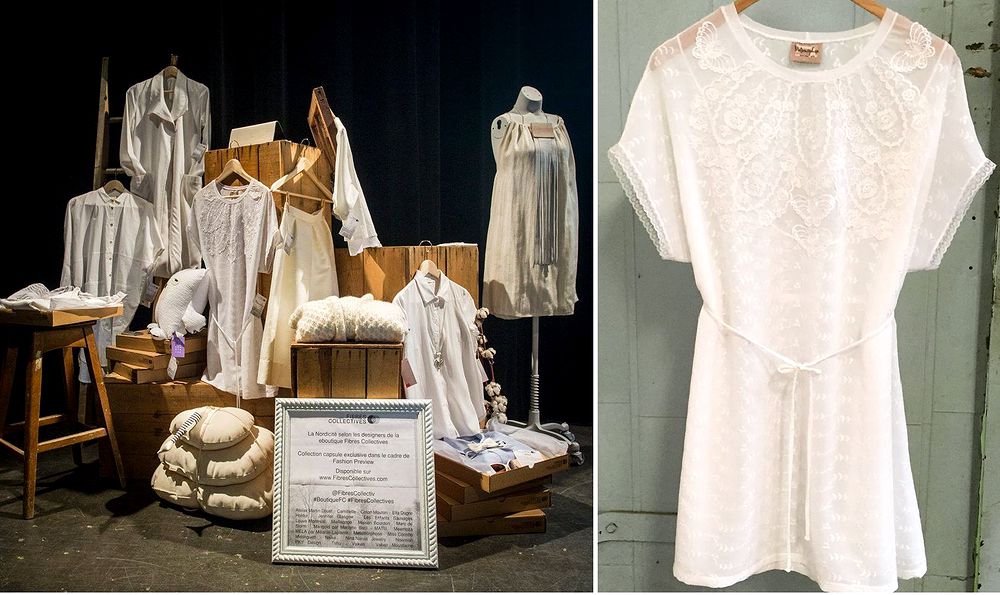 (Photo credit: Sébastien Roy)
20/03/2016
The girls of Madame Moustache dressed in METAMORPHOSE for the tour show «CE SOIR» (summer 2016).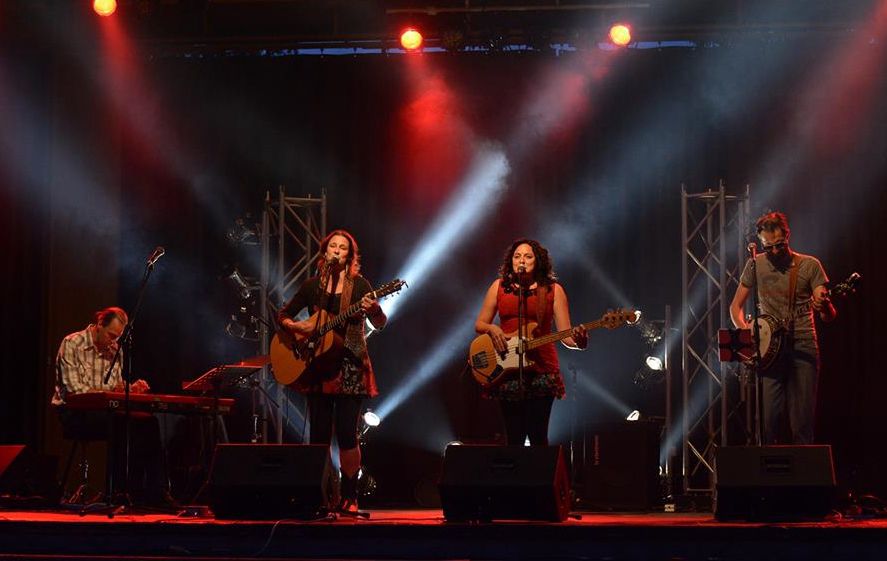 (Credit photo: N. Paré)
22/12/2015
Office History of Karine Demers, designer & entrepreneur for Metamorphose
You want to know me better, know how I work ? Just a few weeks ago I answered a questionnaire for Baron Magazine ...to know more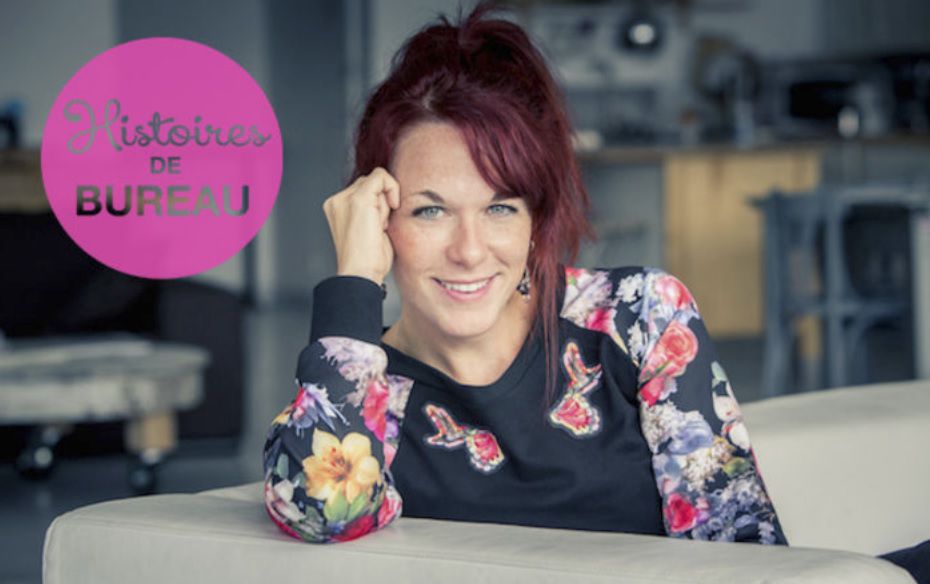 02/12/2015
They talk about us in the blog of Sheryl Kirby who came to visit us at the One of a Kind Show and Sale in Toronto...to know more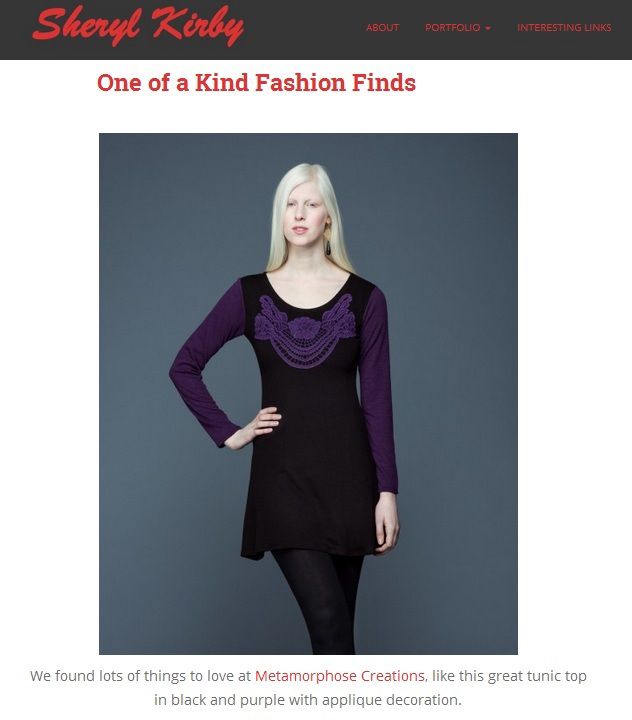 16/11/2015
A nice article about us in writing by Paule for Me Myself and Montreal blog who came to visit our new studio...to know more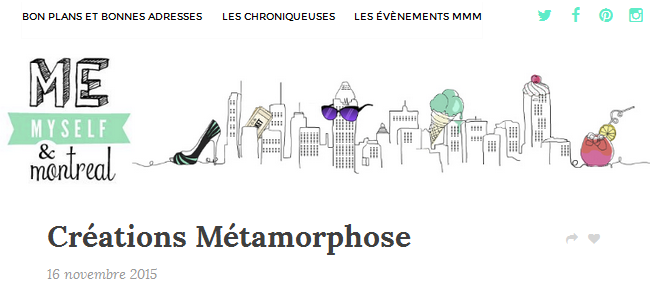 09/11/2015
One of our creation in the spotlight on the red carpet with the beautiful Bïa, winner of the Felix for world music album of the year !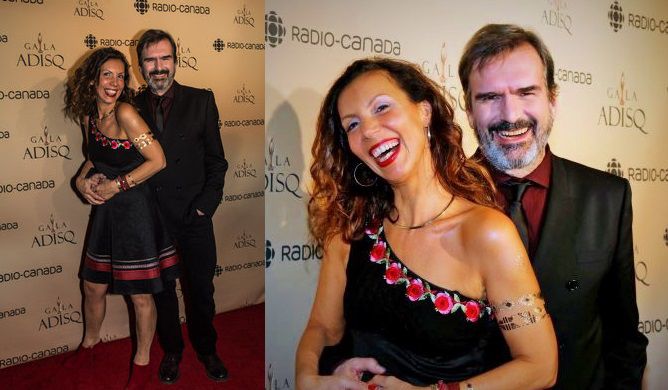 (Crédit photo: Pamela Lajeunesse)
01/11/2015
A nice article appeared in Le Devoir
on the new platform E-commerce Fibres Collectives to identify, enhance and radiate Quebec designers of the new generation ...to know more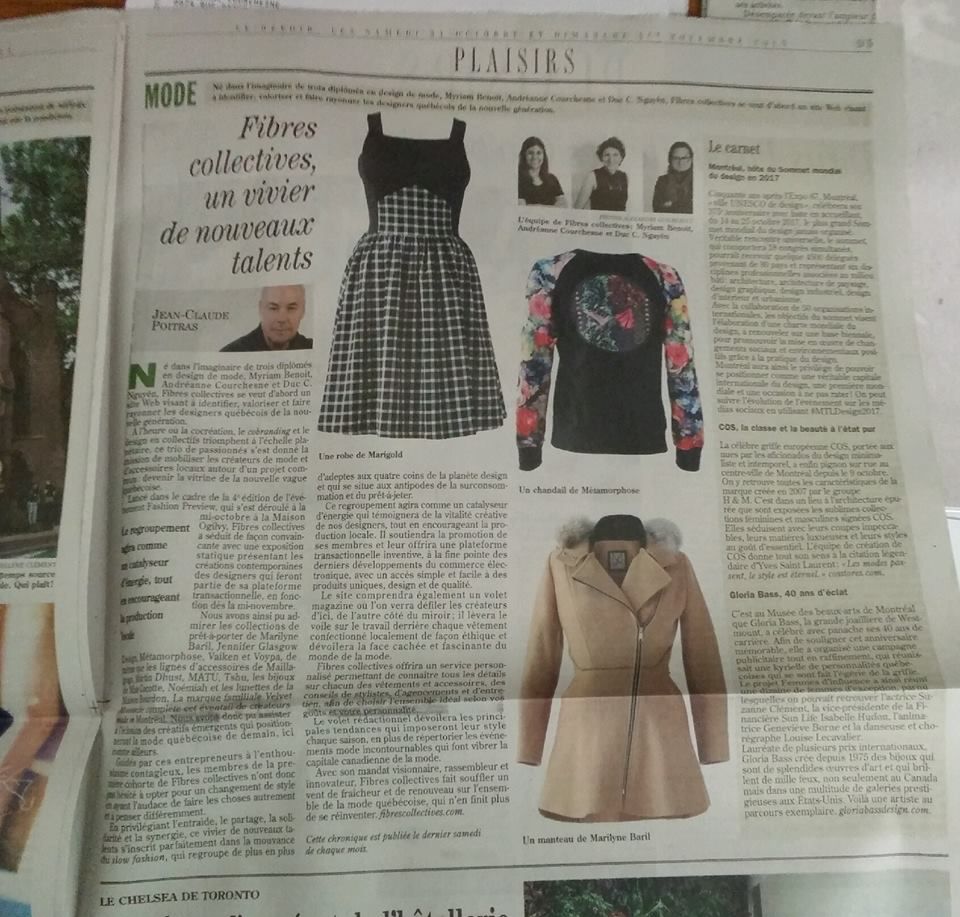 29/10/2015
We talk about our new collection for children in the Journal Métro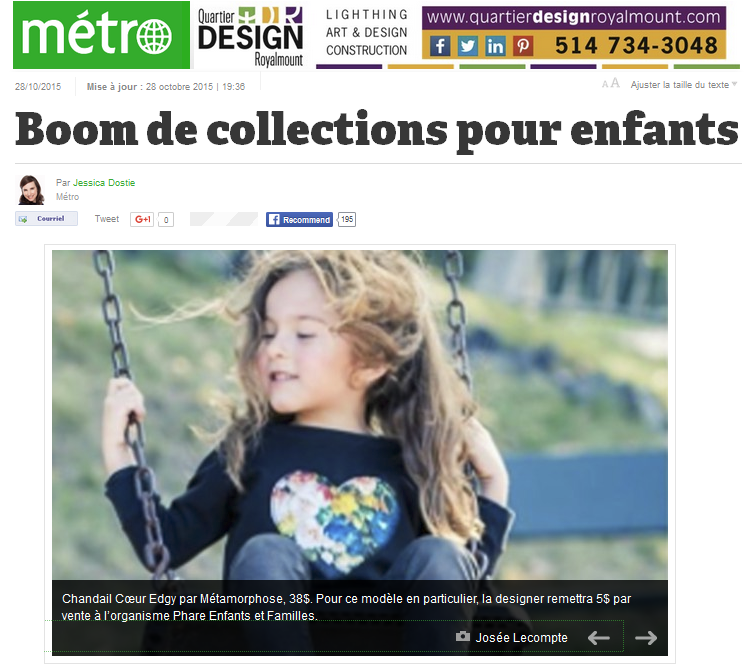 23/10/2015
Article from Bureau de la Mode de Montréal on the opening of our workshop/shop storefront...to know more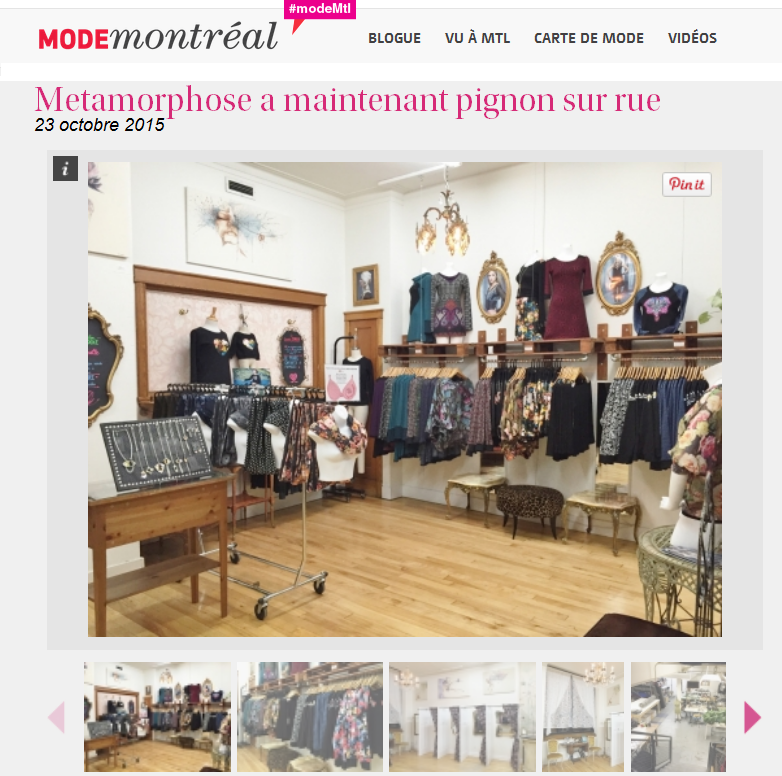 08/10/2015
Bïa wearing Metamorphose at Belle et Bum program
Once again, the beautiful Bïa has put our creations in the spotlight ! Here, with our sublime Marilyn dress, rehearsal for the TV show Belle et Bum (October 2015).
23/08/2015
The 15th edition of the Festival Mode & Design took to end yesterday and here is a small return on our participation in last Wednesday show organized by Fibres Collectives and the Bureau de la mode de Montréal. For the occasion, three of our looks of the new collection were presented there . We are very proud to have participated in a fashion event , dedicated to the promotion and enhancement of talent here! (Photo: Jean-Michael Seminaro)